Two workshops are available this month in collaboration with Washington State Psychological Association. Please visit our events page for details and to register. Both are being recorded to be available as a homestudy workshop with CE credits. Other workshops that have been recorded will also appear on the events page.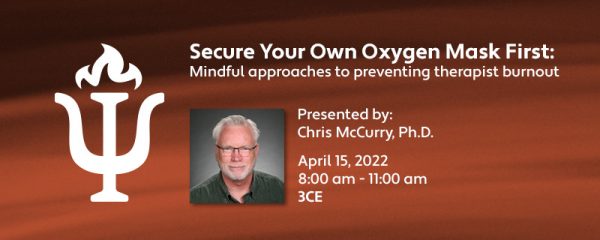 This mindfulness webinar is presented by WSAP and presented by Dr Chris McCurry a clinical psychologist in Seattle. He is the author of Parenting Your Anxious Child with Mindfulness and Acceptance and The Mindfulness and Acceptance Workbook for Teen Anxiety, both from New Harbinger Publications. He has lectured nationally and internationally on anxiety, mindfulness, and resilience.This workshop was  presented to the Nevada Psychological Association in 2021.
In this 3-hour workshop, we will examine the sources of burnout, along with the related concepts of compassion fatigue and vicarious trauma. Through questionnaires, self-report measures, and discussion we will consider our vulnerabilities and risks for burnout. We will identify life domains where we can develop "career-sustaining behaviors" that will not only reduce or prevent burnout but will greatly enhance our work satisfaction and effectiveness. A variety of strategies for monitoring and managing burnout will be introduced, with particular attention to recent contributions from mindfulness and acceptance-based therapies. A bibliography of relevant journal articles and books will be provided.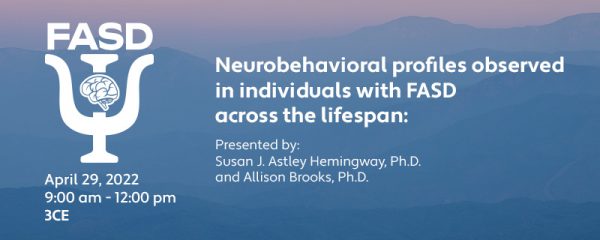 This AK-PA workshop is made possible through a sponsorship by Alaska Health and Social Services FASD Program. It is presented by Dr Susan Astley Hemingway and Dr Allison Brooks.
Susan Astley Hemingway, Ph.D. is a professor of Epidemiology/Pediatrics and director of the WA State FAS Diagnostic & Prevention Network. The mission of the FASDPN is FASD prevention through diagnosis, intervention, research, and training. Dr. Hemingway created the validated FASD 4-Digit Code and tools.
Allison Brooks, Ph.D. is a licensed psychologist with extensive clinical, research and training experience in FASD. Dr. Brooks has served as the FASDPN psychologist for over 20 years conducting FASD diagnostic evaluations and constructing intervention recommendations for over 2000 individuals across the lifespan.
The goal of this workshop is to share the FASD diagnostic outcomes and neurobehavioral profiles observed over the past 20 years on 4,845 patients diagnosed with FASD in AK and WA by interdisciplinary teams using the FASD 4-Digit Diagnostic Code. How do diagnostic and neurobehavioral outcomes vary by level of prenatal alcohol exposure, age, race, and gender. What are the intervention needs of individuals with FASD? Does an FASD diagnosis help qualify an individual for intervention services? Do these intervention services typically exist in a community, and do they meet the needs of the patient and their caregivers?