AK-PA 2020 Board Retreat
The AK-PA board met on Saturday Aug 22 to welcome the new board members and new Executive Director, Marvo Reguindin. The 4 hour meeting started with intros about how long they have been involved with AK-PA and a fun ice breaker where those attending divulged their favorite meal the can prepare.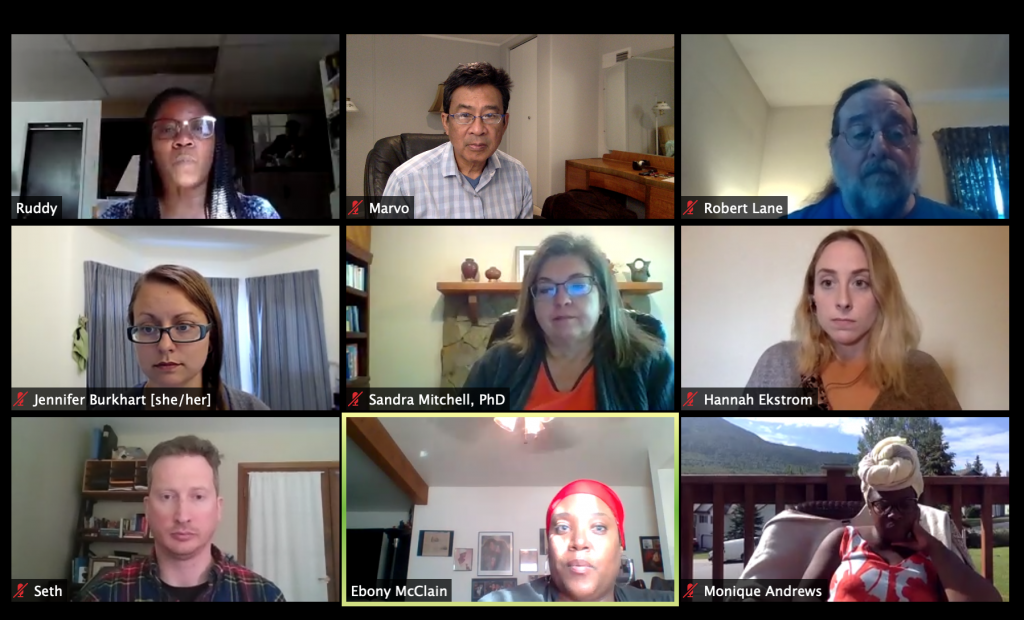 Ruddy Taylor – She has been a member since grad student, she has been President Elect for 1 year. She prepares a mean Gumbo, her recipe is from two of her aunts.
Robert Lane – Robert has been a long-time board member, his first year was in 1991. Became president in 1996. Went to early days of SLC at APA. Saw FAC got full ride to SLC. Upon hearing Ruddy makes gumbo he mentioned that he loves to eat gumbo! His favorite meal to cook is Brisket and has discovered how sous vide cooking.
Sandra Mitchell – Sandra is on her second year on the board. She became treasurer versus easing into the board as member at large. She likes to cook Asian food, mostly Chinese and Thai food.
Ebony McClain – Ebony is the Diversity Chair and has been on the board for 2 years. With two kiddos she says she has become quite the cook and also bakes. Her favorite meal to prepare is fried chicken and red beans and rice.
Hannah Ekstrom – Hannah started as an APAGS Rep, ECP rep, and now member at large. She is not a domestic cooker and likes to experiment with recipes. She learned how to boiled eggs in Insta-Pot.
Monique Andrews – Monique is the current APAGS rep. Attends APU for Counseling Psychology and has been on the board for 1 year. Husband does the cooking and likes to make Chicken Marsala.
Seth Green – Seth is the newest to the board and member at large. Has known about the AK-PA for years and has known of a lot of board members. He joined the board by being asked. Smoked salmon is his specialty and uses his Insta-Pot to get by.
Jenn Burkhart – Started as student rep in 2014 or 15. She was appointed technology chair three years ago and became CE Coordinator for 2 years. She loves cooking, her Insta-Pot, and Thai and Asian dishes
A discussion on the finances found the 2020 budget is similar to the 2019 budget but with the Covid 19 Pandemic there were not CE workshops in the Spring. The new E.D. will work with the Treasurer and Bookkeeper to work on the 2021 budget in October and November.
Diversity, Legislative, and Grad Student committee chairs gave an update on their committee plans.
The board did additional planning for the upcoming Sept 25 and 26 virtual visit with APA's CEO, Dr Arthur Evans
2021 Planning
1 large CE workshop will be planned in the 1st, 2nd, and 4th quarters. No CE events during the summer.