We open our first newsletter of 2021 by welcoming all of our renewing and new members. Thank you for your commitment to AK-PA with your membership. You will see an ongoing theme about membership in the newsletter as we rebuild and reengage AKPA member participation in the association.
Featured Member Spotlight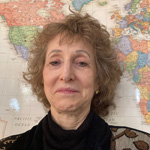 The website home page will feature a member each month. Our first featured member is Ann Stockman, MSW, Ph.D. The board will choose and contact members to spotlight. We will also accept submissions from members to be spotlighted. To do that, simple submit a photo and information about you and why you love what you do in 200 words or less.
Welcome New Members
We are thrilled to welcome 18 new members this first quarter. Please also see the related article on membership.
Students:
Gwendolyn Barnhart
Joshua Burton
Aura Chasteen
Jennifer Erickson
Elizabeth Everett
Cody Gustaveson
Robyn Hunter
Allyson Lindsey
Brooke A Maupin
Andrew May
Cleo Patrick
Kyle Webster
Alisha Wenger
First Year
Rebecca Reed, Ph.D.
Marieke Heatwole
Third Year
Thinn Aung
Malan Paquette