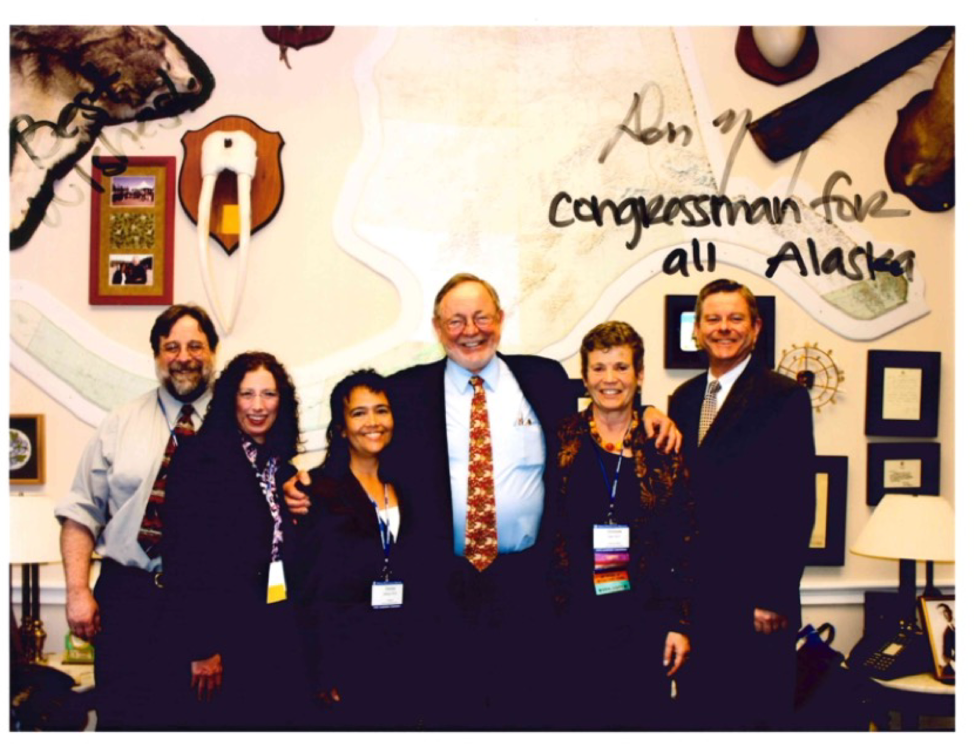 Right to left: Robert Lane, Ph.D. AK-PA Federal Advocacy Coordinator; Karen Ferguson, Ph.D, AK-PA President, Denise Dillard, Ph.D, AK-PA President-Elect; Congressman Young; Cristine Sam,. MS, AK-PA Member-at-large, Gilbert Sanders, Ph.D., AK-PA Member-at-large.
Don Young, the sole Congressman for Alaska, has passed away at 88. Rep. Young's passing was announced on the night of March 18th, 2022.
Rep. Young was the longest-serving Republican member of the House of Representatives in congressional history. He was a champion for mental health issues related to Alaska in the House. He served for 49 years, elected in a historic race in 1973.
The Alaska Psychological Association valued their relationship with Congressman Young, who always received AK-PA's delegation warmly on their annual visits to Washington DC. His office also accommodated several lunches with the congressman, both there and here in the district over the years to discuss issues of concern.
"He was a steadfast friend of AK-PA," says Dr. Robert Lane, former AK-PA Federal Advocacy Coordinator, "and he supported issues our Senators did not pick up support for."
Young was an Alaskan through and through. He participated in hunting, trapping, mining, and simply enjoying the final frontier. He could be bombastic at times, but Rep. Young also consistently advocated for mental health services for Alaskans. "He cared about mental health services in Alaska and he supported our efforts to enhance them," says Lane. "He was [maybe] a good model for working together with people we don't agree 100% with to get something done."
Because of the COVID-19 pandemic, adapting therapy to conform to social distancing was a challenge. Rep. Young was the first Alaska Congressman to support the extension of teletherapy, likely keeping a crucial door open to mental wellness in AK.
Don Young and his relationship with AK-PA will be remembered fondly.