Alaska's Department of Health and Social Services, Office of Substance Misuse and Addiction Prevention has awarded AK-PA a $10,000 Sponsorship to help promote education regarding Fetal Alcohol Syndrome Disorder (FASD). The goal is to get more psychologists and other behavioral health therapists in the state informed and engaged about diagnosing the disorder. According to Hope Finkelstein, FASD Program Manager, there is a perception that FASD is mostly diagnosed within indigenous and low income communities of color, but in reality a majority of diagnosis are found in white middle and upper income families. She also notes that there are few psychologists working in FASD and would hope that AK-PA's connection to other state psychological associations will help push the workshops developed beyond Alaska.
AK-PA's first opportunity to host an FASD workshop will be at the Northwest Psychological Fall Convention, a collaboration with Washington State Psychological Association. The 3 CE workshop is titled Introduction to Fetal Alcohol Spectrum Disorders (FASD) Diagnosis and Assessment: The Role of the Psychologist.
The workshop will cover:
An Overview and identification and diagnoses of FASD
The FASD 4-Digit Code
Neuropsychological assessment
VTC assessment and Evaluations during COVID-19
Breakout room discussions.
Registration include 50% discount for members, 25% discount for non-members. Register here.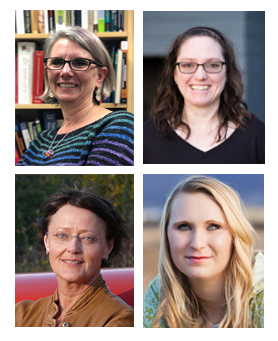 Workshop presenters are: (top) Sarah Mattson Weller, Ph.D., San Diego, CA; Erika Stannard, Psy.D., Wasilla, AK. (bottom) Jacqueline Bock, Ph.D. Soldotna, AK; and Erin Johnson, Ph.D., Anchorage, AK
Additional workshops that will go deeper into diagnosis and assessments plan to be presented in 2022.